<!XXXXXXXXXXXXXXXXXXX LIST XXXXXXXXXXXXXXXXXXXXXXXX> ARCTIC LIBRARY
Check out our extensive INUIT section. There's just about everything in this library that you'd ever need to know about the Arctic, listed both ALPHABETICALLY and by CATEGORY. Ideal for students. (Double-click any word on these pages for a "pop-up" definition.)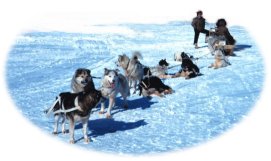 A fine team of sled dogs
Photo: National Oceanic and
Atmospheric Administration

NUNAVUT MAP AND WEATHER REPORTS
Nunavut - "our land" in the Inuktitut language - has been home to Inuit for millennia and part of Canada for more than a century. Click on the locations for current weather reports.

NUNAVUT GAME
Guess the locations within Nunavut.

PREHISTORIC PEOPLES
Most of Northern North America was covered with ice during the last ice age, but by about 10,500 years BP (Before Present) the ice sheets began to recede.

HISTORY OF THE INUIT - FROM ANCIENT TIMES TO 1902
What we do know has been pieced together from traditional oral histories, archaeological research, and the writings of explorers, fur traders, and missionaries who visited the western Arctic.

IMAGE GALLERY - INUIT ART
The Virtual Museum of Canada celebrates the stories and treasures that have come to define Canada over the centuries. Here you will find innovative multimedia content that educates, inspires and fascinates

NATIVE LAND USE AND HARVESTING CYCLE
Hunting and the relationship to the land are of profound cultural and spiritual importance to the Inuit. The meaning of life for most Inuit is still found in nature and most are at least part-time hunters.

ARCTIC INDIGENOUS PEOPLE
Inuit are a people who live near the Arctic. Their homeland stretches from the northeastern tip of Russia across Alaska and northern Canada to parts of Greenland.

CROSSROADS OF CONTINENTS
With the passing of the last Ice Age, human populations began spreading north and east until they crossed into the Americas via Alaska. That great migration was only the beginning of the story...

LOST VISIONS, FORGOTTEN DREAMS
Life and art of an ancient Arctic people.

INUIT CLOTHING
When Inuit lived exclusively on the land, caribou and seal were the main sources of clothing material. The insulating properties of caribou fur made it ideal for protection from the harsh winters. Sealskin was preferred for footwear because of its durability and water-resistance.

NUNAVUT TRAVEL PLANNER
This website is a comprehensive online travel planner that will prove invaluable in both researching and planning a visit to Nunavut. The goal is to develop an environmentally responsible and economically viable tourism industry in Nunavut that is in harmony with Inuit culture and tradition.

NUNAVUT.COM
Information gateway to Nunavut.

GOVERNMENT OF NUNAVUT
Nunavut - "our land" in the Inuktitut language - has been home to Inuit for millennia and part of Canada for more than a century. Whether you're a visitor from the other side of the world curious about Canada's third territory, or a resident looking for information, turn here first.

NUNAVUT COMMUNITY INFORMATION
We could tell you more, but all we'd end up doing is repeating the title.

THE ATLAS OF CANADA
Discover Nunavut through facts and maps. The land, the people, transportation, mining, special places... it's all here.

MAP: INUIT POPULATION IN CANADA
Canadian census information showing the distribution of Inuit population throughout the country.

MAP: INUIT COMMUNITIES IN CANADA
Nunavuts 26,000 inhabitants live in 28 communities widely scattered across 2 million square kilometres.

CAPE DORSET INUIT ART
This site links the graphic work of some of the famous artists from the community of Cape Dorset with the memories, myths and legends of elders from the community of Igloolik.

CANADIAN INUIT HISTORY
A thousand-year odyssey of the history of the aboriginal inhabitants of the North American Arctic, from Bering Strait to East Greenland, a distance of over 6000 kilometers. As well as Arctic Canada, Inuit also live in northern Alaska and Greenland, and have close relatives in Russia.

INUIT ART CENTRE
A Canadian federal program works in partnership with Inuit artists and Inuit art organizations to enhance the promotion and education of contemporary Canadian Inuit fine art with government departments and agencies, private and public art galleries and museums, and the general public.

TRADITIONAL INUIT GAMES
Some grade six students at Aqsarniit School in Iqaluit, Nunavut did a project on some of their favorite Traditional Inuit Games. We hope you will learn how to play some of them where you live....

INUKTITUT LANGUAGE
This site, from Indian and Northern Affairs Canada, lets you hear common phrases in Inuktitut.

INUKTITUT SYLLABARY
The Inuktitut syllabary was adapted from the Cree syllabary, which itself was adapted from the Ojibwe syllabary. Both the Ojibwe and Cree syllbaries were invented by James Evans, a Wesleyan missionary, between about 1840 and 1860.

ESKIMO-ENGLISH DICTIONARY
This dictionary covers words used by Canadian Eskimos. A certain number of words used only by local bands of Eskimos have been added on account of their particular interest and usefulness.

WORDS FOR SNOW
The Inuit, Aivilik and Igloolik languages have over 30 words for snow - and here they are!

OUR WORLD - OUR WAY OF LIFE
Inuit have relied on the spoken word and story telling to transfer information and knowledge about our history and culture from generation to generation.

IN OLD NAMES - A LEGACY RECLAIMED
Names are a very important part of Inuit culture - every name has a definition, but when Europeans came north to this frozen land of blizzards and deserts, they could not understand why the Inuit had no last names.

INUKTITUT FONT DOWNLOADS
For Windows and Macintosh.

INUIT & ENGLISHMEN
The Nunavut voyages of Martin Frobisher

INUIT THROAT SINGING
Throat-singing has been an important cultural heritage for quite a long time among the Inuit of North America. They developed a particular type of throat-singing that is different from its Mongolian and Tuvan counterparts - one that does not produce the extra notes.

THROAT SINGING - SOUND FILES
A kind of competition between two singers, throat singing is ideal for cold climates. Sound Files.

THREADS OF THE LAND
The Inuit of Canada's Arctic live in one of the world's most extreme climates. Their clothing has been one of the keys to survival.

THE DOGS OF THE INUIT
As a hunting companion, the Inuit dog's predatory skills have helped stack the odds of locating and retrieving game in the hunters' favour. This, in a harsh environment where animals were almost the sole source of all that was needed to sustain life.

INUIT TAPIRIIT KANATAMI - INUIT OF CANADA
ITK is the national Inuit organization in Canada, representing four Inuit regions - Nunatsiavut (Labrador), Nunavik (northern Quebec), Nunavut, and the Inuvialuit Settlement Region in the Northwest Territories.

ARCTIC HISTORY
Have you ever wondered how and when the Inuit came to live in Canada and where they came from? We do not know all of the answers, but archaeology and Inuit legends provide us with some clues.

SILA
This is an innovative e-learning website (targeting youth ages 12 and up, as well as their teachers and parents) that connects people directly to the stunning Arctic environment and a rich Inuit cultural universe.

NORTHERN DOG BREEDS
Northern peoples have bred dogs for 3 primary purposes - herding, assisting hunters, and for pulling sleds and other conveyances.

NORTH STAR INUIT GALLERY
Inuit Soapstone Carvings, Inuit Art - North Star Inuit Gallery in Yellowknife, NWT, Canada offers the finest soapstone carvings direct from Canadian Inuit artists and cooperatives. Eskimo art soapstone sculptures carved by famous Inuit artists.