Not Your Usual
Round of Golf!
The "Greens" are White... The Balls are Red...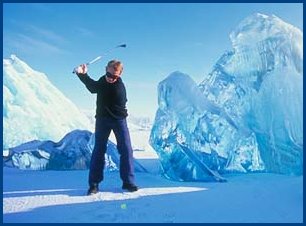 Driving down the..."iceway"?

It seems that people have been playing ice golf for quite some time. A Dutch painting by Aert van der Neer (1603-1677) shows players on a frozen canal in Holland. At that time the game was called "kolven".

People are still playing ice golf, and Uummannaq, Greenland, 600 km (373 miles) north of the Arctic Circle, offers one of the most extreme and spectacular ice golf courses on earth.

The "greens" are white and the balls are red, but otherwise ice golf is similar to regular golf. Golf clubs with a steel shaft are best in the cold and you have to carry your golf bag - carts and trolleys can't be used on the course.

The ocean interacts with the weather and the formation of icebergs to create the general framework for the course, which is laid out in March on the fjord ice. Its shape is determined largely by the positions of icebergs in the fjord.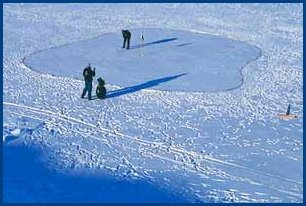 To the putting "white".

Players must be prepared for the unusual, but after a few strokes, players very quickly get a feel for the special conditions. The course is constantly changing as movements in the pack-ice allow new outcrops of ice to emerge into the course. Conditions can be very different from hole to hole - one side of an iceberg can have a lot more snow than on the other - and over the very hard ice "fairways" lies a layer of approx. 1-2 cm (½ - 1 inch) of frozen "powder", which makes the surface rough and uneven.

You have to be prepared for practically anything when it comes to the weather in Greenland. In March, when the world ice golf championships are held, the average temperature is about -14°C (7°F), but temperatures as low as -25°C ( -13°F) can occur. However, the cold feels less bitter than one might expect, due to the dry climate and the strong sunshine.

Fore!

Also see:
Greenland Guide
Ice Golf Championships
Arctic Map and Weather Reports
Map of the Source of North Atlantic Icebergs
Guide to Arctic Sunrise and Sunset