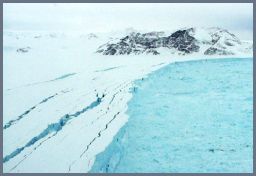 The ice sheet crumbles
(Click photos to enlarge)
Ice Shelves Collapse
A Wake-up Sign for the Whole World
It took less than a month for a massive ice shelf to break up off the coast of Antarctica. It is thought that the floating ice sheet, which covered over 3,200 square kilometres (1235 sq. miles) and was 198 metres (650 feet) thick, had been stable for about 1,500 years. Five hundred billion tons of ice sheet has now become billions of tons of icebergs.
The Antarctica Peninsula is warming much faster than the rest of the world, and several ice shelves have collapsed over the last decade. Scientists believe that this is more evidence of man-made global warming, and the British Antarctic Survey had predicted that several ice shelves were doomed because of rising temperatures.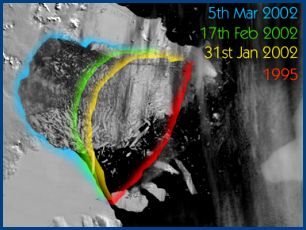 Satellite photo shows collapse area

Scientists are not sure why the peninsula is warming so quickly while other parts of Antarctica seem to be cooling.

Ice shelves formed from snow that fell on the continent and was then carried to the coast and out onto the water in glaciers.

The ice shelf was already floating so its destruction will have no sea levels and the icebergs (many about the size of football fields) should not be a danger to ships.

However, the southern ocean area plays a very important part in effecting the Earth's climate because it links the Indian, Atlantic and Pacific Oceans.


LINKS:
British Antarctic Survey
Glaciers, Icebergs
Maps, Boats and Ships