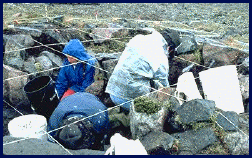 Archaeologists at work. Photo: Robert W. Park. See Mr. Park's "Archaeology in Arctic North America" website in our LINKS section.
An ARCHAEOLOGIST is a person who studies things that humans did in the past. This is often done by digging up the ground (or ice) to find tools, bones or other things that have remained from long ago.
Many explorers have been to the Arctic - looking for the Northwest Passage. Some of them, like the sailors of the Franklin Expedition, became lost in the icy wilderness and have never been found.
See if you can find what the ancient explorers left behind.

SCROLL DOWN or CLICK HERE to go to the snow fields below - then use your MOUSE DETECTOR to search beneath the snow. When the hand appears, it means something is buried there. Then . . . CLICK TO DIG!
(MARKERS down the snow will help you to keep track of how far down you have gone.)