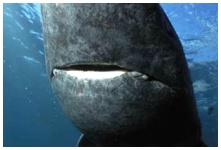 The Largest Arctic Fish

The Greenland Shark is one of the largest sharks in the world. It rivals the Great White in size, although it is not as aggressive. Growing to over 6.5 meters / 21 feet in length and weighing up to 900 kilos / 2000 lbs, the Greenland Shark is the largest Arctic fish.

This dark brown shark has teeth that are relatively small but razor sharp, and it feeds on fish, seals, small whales - and sometimes other sharks.

Greenland Sharks are sluggish compared to the Great White, but a short broad tail is ideal for short bursts of acceleration, leading some biologists to believe that the sharks are not as sluggish as they first thought.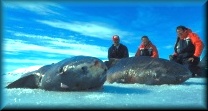 Even though stories are told of people catching and hauling these sharks onto the shore with their bare hands, stories are also told of sharks attacking Beluga whales that are trapped at breathing holes, or caribou as they drink from the mouths of rivers (much like an African wildebeest would be ambushed by a crocodile at a watering hole).

There is no industrial fishing for the sharks, but they've been landed with their stomachs and mouths filled with hooks.

The fishermen put out long lines of bait for Greenland halibut and the sharks start at the end of the line and munch their way up until they finally get stuck.

The flesh of the Greenland Shark can be poisonous to other animals. Inuit hunters know not to feed raw shark meat to their dogs because a toxin in the flesh makes the dogs seem drunk.

MORE...
Click pictures for more information and credits.
Library: Arctic, Whales/Fish, Inuit
Links: Arctic, Inuit
Arctic Maps & Weather Reports