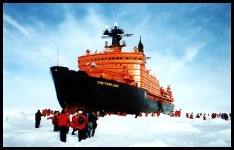 Holiday to the Pole?

Since the 1980s, trips to the North Pole on icebreakers have increased in popularity for tourists. They travel to the top of the world - the ultimate goal for generations of explorers - but they do it in great comfort aboard Russian, Swedish, German, and other ice-breaking ships.

There isn't much to see there, but you can get off the ship and walk about on the ice covered Arctic Ocean - with about 10,000 feet / 3,000 meters of water beneath you!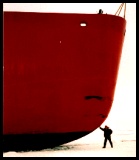 A word of warning - ice breakers are NOISY! Imagine all of that ice, constantly scraping, crushing and crashing against a steel hull - with you inside it. Put a metal bucket over your head and then scrape rocks on the outside of it, and you'll understand what happens.

Its not always a smooth ride either. Icebreakers break ice by riding up on top of it, and letting the weight of the ship bear down to break it apart. Yahoo!

Picture Right: The frames of icebreaker ships are designed to absorb the shock of hitting the ice, and the hull and skin of the ship along the icebelt is made of special steel designed for strength in cold temperatures.

MORE...
Click pictures for more information and credits.
Library: Arctic, Boats/Ships/Subs
Exploration, Explorers
Links: Arctic, Boats & Ships
Maps: Explorer's Routes
Arctic Maps & Weather Reports