Dazzling Ice Castle
at Harbin Ice Lantern Festival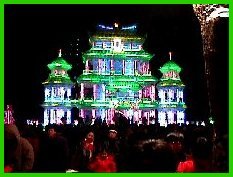 Ice Castle photo: Tom Cooney. Enlarge
For more photos, see our LINKS section.


The Harbin Ice Lantern and Sculpture Festival runs from January to March each year. Harbin is in Manchuria - the most northern part of China and just across the border from Russian Siberia.

Ice sculptures - made from blocks of ice chainsawed from the Songhua River - have represented such things as castles, towers, the Statue of Liberty, the Great Wall of China, and an onion-domed Russian church. The sculptures fill the city square and glow from the neon tubes of purple, pink, blue and green that shine from inside (See picture).

Competitors use knives and saws to carve large blocks of ice into animals, mythical figures, buildings, or copies of artworks. Teams of sculptors come from as far away as Britain, Malaysia and the United States.