Chill Out
at an Ice Hotel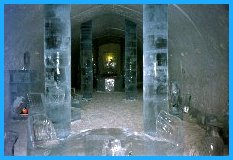 Ice Hotel lobby and hallway. Enlarge
Photo: Michael Duisenberg.
For more photos, see our LINKS section.


A hotel in Jukkasjaervi (YOU'-kus-yair-vee), Sweden, is made of ice and snow. The lobby has seats made of blocks of ice covered with reindeer skins, an ice chandelier, and a pretend ice TV.

The hotel bar does not serve beer, because it would freeze. Vodka does not.

The main hall (see picture) is a long archway of thick packed snow, and has windows of translucent ice blocks sawn from the nearby river. The river runs slowly, so the ice freezes with few air bubbles - making it very clear and blue.

Jukkasjaervi is 160 kilometres/100 miles above the Arctic Circle and the ice hotel draws thousands of visitors every winter. The hotel melts in the summer and must be rebuilt each winter.

The ice structure is very strong. The Swedish military tested the igloo-style construction by firing rocket-propelled grenades at it, but they only made a little hole.