Two British women made history when they became the first female explorers to trek to both the North Pole and the South Pole as part of all-female expeditions.
This Arctic adventure ended on June 2, 2002, when Caroline Hamilton and Ann Daniels reached the North Pole 81 days after leaving Ward Hunt Island on the northern tip of Nunavut in northern Canada.
Unlike the journey to the South Pole, which was over ice on top of land, the trip to the North Pole was across the polar ice cap. There was the added danger of falling through an opening in the ice into the cold Arctic Ocean.
Before North Pole Expedition 2002, Caroline and Ann were also members of the 2000 M&G ISA Challenge Expedition to the South Pole.
The treks to the poles were undertaken without the help of any professional guides or men. Caroline and Ann are both professional explorers themselves and have shown that women are the equal of men in what was once considered to be a very male dominated and hostile environment. They are very proud of what they have accomplished and just want to show females around the world that two ordinary women really can achieve the extra-ordinary.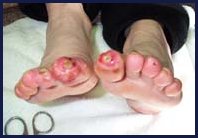 Pom's frostbitten feet
© North Pole 2002 Ltd

A third member of the expedition, Pom Oliver had to withdraw after 47 days because of severely frostbitten feet. Pom had also been to the South Pole and was part of a relay team which reached the North Pole in 1997.
There is constant daylight at the North Pole this time of year, so the explorers had no trouble seeing where they were going.
No Throps or Squallhoots were spotted, and the location of the ice castle is still a mystery.