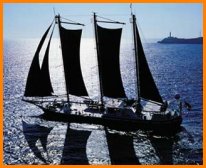 Sedna IV under sail
Arctic Voyage
The Sedna IV Sails
the Northwest Passage
After two years of intense efforts and negotiations, and a five month journey, the Sedna IV sailed into Vancouver, British Columbia, Canada ending a voyage through the famous Northwest Passage.
The Sedna IV (named after the Inuit goddess of the sea) is a 50 meter (165 feet) three-masted schooner. It has been transformed into a seagoing studio for interactive learning and audiovisual production. The information that the ship provides will help to save our environment.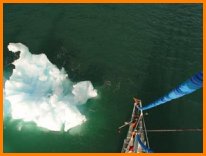 A view from the mast
The mission was to film documentaries, collect data for scientific studies, and serve as a floating media lab for students around the world.
The Arctic Ocean is not as icy as it once was. Some observations from the trip:
Because the permafrost is melting and the sea level is rising, a whole village of about 700 people is being forced to move.
Some polar bears were stranded on a sandspit many miles from shore. They were feasting on a whale carcass when the ice melted unusually early and fast.
Robins have been spotted in Iqaluit. It was previously too cold for robins to travel that far north.
Some polar bears are starving in Hudson Bay. Less ice means poor hunting and a shorter hunting season for the bears.
There is some disagreement as to whether it is "greenhouse-gas" or a natural climate cycle that is making our planet warmer, but a clear conclusion is this: climate change is real and it is very visible in the Arctic.

11/25/02
Photos: Jean Lemire © Glacialis, NFB and Gédéon Programmes

Also see:
A Canary in the Cold
Arctic Mission (the Sedna IV/National Film Board web site)
Arctic Maps, Maps of the Northwest Passage
Northwest Passage Links, Environment