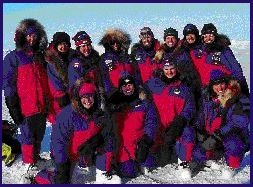 At the North Pole!
At the Top!
All-Women Polar Trek 2001
A group of 12 women have travelled more than 150 miles on skis, in freezing temperatures, to the top of the planet at the North Pole.
In spite of some frostbite, bruises from spills on the ice, and swollen fingers from gripping ski poles for many hours, they all arrived without any serious accidents or injuries on April 24, 2001.
The all-woman expedition, sponsored by WomenQuest, was the first time an all-women group has reached the pole from a Russian-based starting point.
The Arctic is a very cold and desolate place where few animals or people can survive, and most of the treacherous journey took place over the constantly shifting ice cap that covers the Arctic Ocean. it is no wonder that throughout history, only a small number of men, and even fewer women, have ever reached the top of the world.
No ice castles were spotted during the journey.