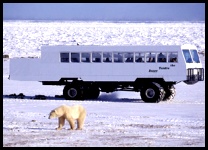 Tundra Buggies Keep Lunch From Bears

Polar bears are the world's largest land predators, and in the fall they gather by the shore and wait for the water to freeze so thay can get out on the ice and hunt seals. They're starving after a summer of nothing to eat.

This provides a unique opportunity to see polar bears roaming free and unchallenged, rather than locked up in a zoo. The bears' migration through the town of Churchill, Canada, attracts about 10,000 people who come to see them each year, but how do you do that without getting eaten by those hungry bleached bruins?

In Churchill, people watch the bears safely by travelling in "tundra buggies" - huge, lumbering vehicles with tractor-sized wheels, heated interiors and viewing platforms.

MORE...
Click pictures for more information and credits.
Arctic: Library and Links
Polar Bear: Library
Arctic Animal: Library and Links
News Story: "It's Polar Bear Season!"